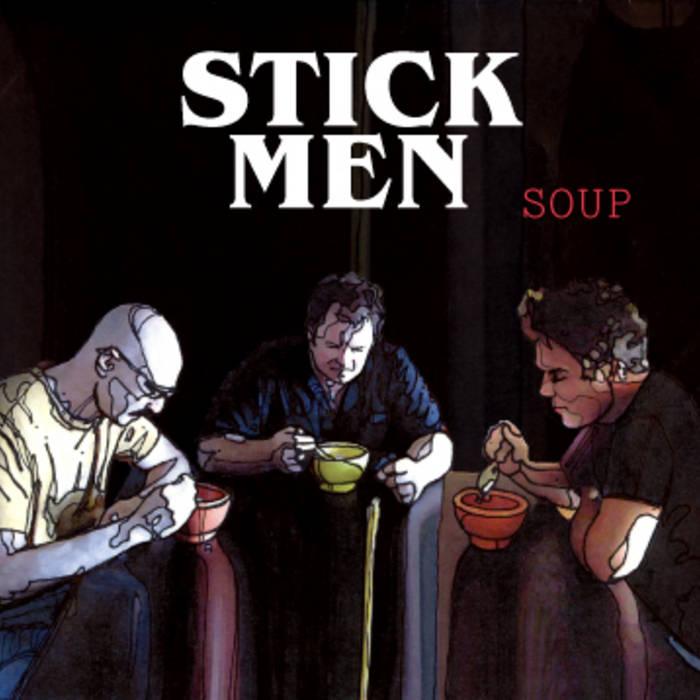 Stick Men (Tony Levin, Michael Bernier and Pat Mastelotto) new cd "Soup" is available in stores in the USA.
 Woodstock, NY (June 2010)
King Crimson alumni Tony Levin and Pat Mastelotto join with Chapman Stick player Michael Bernier in this unique album featuring multiple Sticks. Levin, noted for the unique Stick opening riff of  "Elephant Talk" on the seminal King Crimson album 'Discipline', is a premier player of the instrument. Here the band showcases 56 minutes of hard-edged progressive rock, including an ominous rock rendition of Stravinsky's "Firebird Ballet". The title track "Soup", mixed by Porcupine Tree's Steven Wilson, is about the Large Hadron Collider, and classically-structured "Hands" and "Relentless" feature high-energy speed playing meeting mellow bowed sections. Stick Men follow this release with a world tour, including dates in North America, Japan and Europe.
Tony Levin has recorded with John Lennon, Peter Gabriel, Pink Floyd, Yes, Alice Cooper, and many more. He has released 5 solo cd's and three books over his career. His website <www.tonylevin.com>  features behind-the-scenes photos of his many tours and one of the web's first road diaries. In addition to embarking on recording and touring with Stick Men, he is currently a member of King Crimson and of the Peter Gabriel Band.
Very rarely does a drummer go on to forge a successful career upon the demise of their former hit band. Phil Collins and Don Henley have managed it, so too has Pat Mastelotto with Mr. Mister. A self taught drummer, who has also been involved with pushing the envelope of electronic drumming, Pat has spent a lifetime jumping genres from pop, to prog-rock ,to electronica to world music. He has performed and recorded with Mr. Mister, XTC, David Sylvian, The Rembrandts, and for the last 15 years -- King Crimson.
Multi-instrumentalist Michael Bernier is considered to be one of the world's best Chapman Stick pioneers. He is credited on the 'STICKMAN' album for "Advanced Stick Techniques". You can always find Michael inventing new and exciting playing approaches to the Stick. Michael also brings the added element of another drummer to the Stick Men mix.