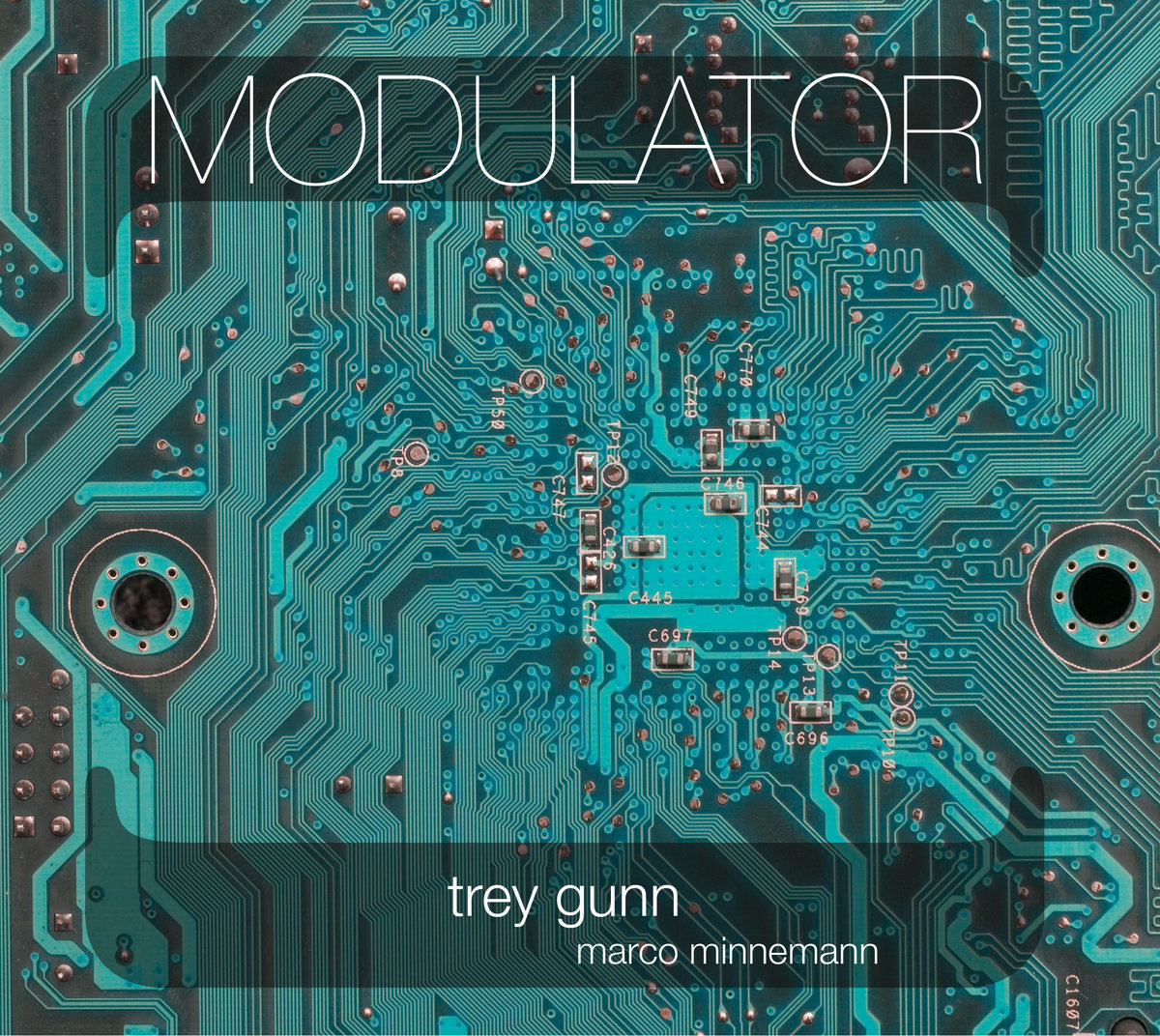 Trey Gunn / Marco Minnemann: Modulator   Review at PopMatters
Trey Gunn has a name reminiscent of an Old West outlaw. He is also one of current progressive rock's go-to soundmakers, mainly wielding his Warr guitar (a Chapman Stick-like instrument built to explore notes from bass to guitar range with a tapping technique), touring and performing with the likes of Tool, Brian Eno, and, most famously, prog giants King Crimson, of which he was a member for nine years and four studio albums.
On Modulator, the music is a thick, weird, pulverizing, battlefield of touch guitars, spacy sound effects, and free jazz drumming. The concept is even weirder—for Modulator, the writing took place backwards, with Gunn writing and overdubbing soundscapes and riffs on top of "rhythmic illusionist" Marco Minnemann's 51-minute drum solo, recorded live in Senden, Germany in 2006. Gunn spent years toying with the material, literally re-thinking the process of songwriting before finally settling on an appropriate method of deconstruction: 22 tracks of controlled chaos.
Modulator won't win over any doubters. If your idea of proggy experimentation is "that Coheed album with all the sound effects", this ain't gonna float your boat. But if you're up for the challenge, Gunn, Minnemann, and Modulator offer a headphone-absorbing headfuck that only gets better the closer you listen. If the idea behind "progressive rock" is to literally "progress" rock music beyond its normal confines, exploring the limits and possibilities of what the genre is capable of, then Modulator is one of the most progressive (and interesting) things you're likely to hear this year…or any.
By Ryan Reed, 20 May 2010
____________
from the Tandem and Corriere Canadese newspaper:
"Unlike his fragmentary last release, Music For Pictures, Modulator is a dynamic work that flows interestingly with a variety of instrumental colors (even bagpipes, hammered zither and Tibetan horns). The original drum piece may have been improvised but the Gunn's creation is meticulously arranged and is one of his best works to date."

 
____________
Fan comments
"The ability to take a 51 minute drum solo and make the music here sound as if it was nearly fully improvised is remarkable. The music to me generally sounds as if Trey took the lead, letting Marco play, and created a true "album", not simply a selection of songs. It's a fluid piece with amazing texture, always moving along. Just as you find yourself bopping along, all of a sudden a thorough deconstruction of that moment takes place, and a new moment arrives. Too me, it requires an active listen. Although I must admit, this album, played loud in my car, feels just as right as any other long haul music I have. 

Two musicians who remain true to themselves and the music can create remarkable moments. This is several of them."
---
"As both a concept and a musical statement, "Modulator" is a tour-de-force of experimentalism. Spilling beyond the categorization of "rock" or "prog," it challenges the already hazy distinction between improvisation and composition. No secret has been made as to the creative process behind "Modulator," so you may already be aware that it began as a 50 minute drum solo by Marcus Minneman that Gunn wrote the album around. That Gunn can hear the kinds of musical possibilities expressed on "Modulator" within the framework of an unaccompanied drum solo bespeaks of a rare degree of musicianship and creativity.
Gunn's musical growth since I first took notice of him playing in Sunday All Over the World is astounding. For the uninitiated, this will be a brutal wake-up call to Gunn's brilliance as an experimentalist. There just is not enough of this kind of courageous work being done today, and certainly even less being done as well. This could shut down your next party, or, depending on what king of party you are having, send it careening totally out of control. I think it's a brilliant listen, but I admit to having eclectic tastes."
---
"I'm usual not a big fan of this genre, but I find myself listening to this over and over again. I love it in the evening as the sun goes down, out on the back porch. It seems haunting, soothing and yet uplifting too."
---
"The music put together in Modulator is one of the most creative pieces of prog work I've heard in a long time. To think that a 51 minute live drum solo was used to compose the tracks on is brilliant. On some songs the music has vibrant, and intense sounds, and flows into haunting ghost-like melodies in others. Very pleasing to listen to. It's absolutely amazing what these guys are able to do with the technology offered today when they have mastered it. Mr. Gunn...Mr. Minnemann....Much Kudos to you both!"