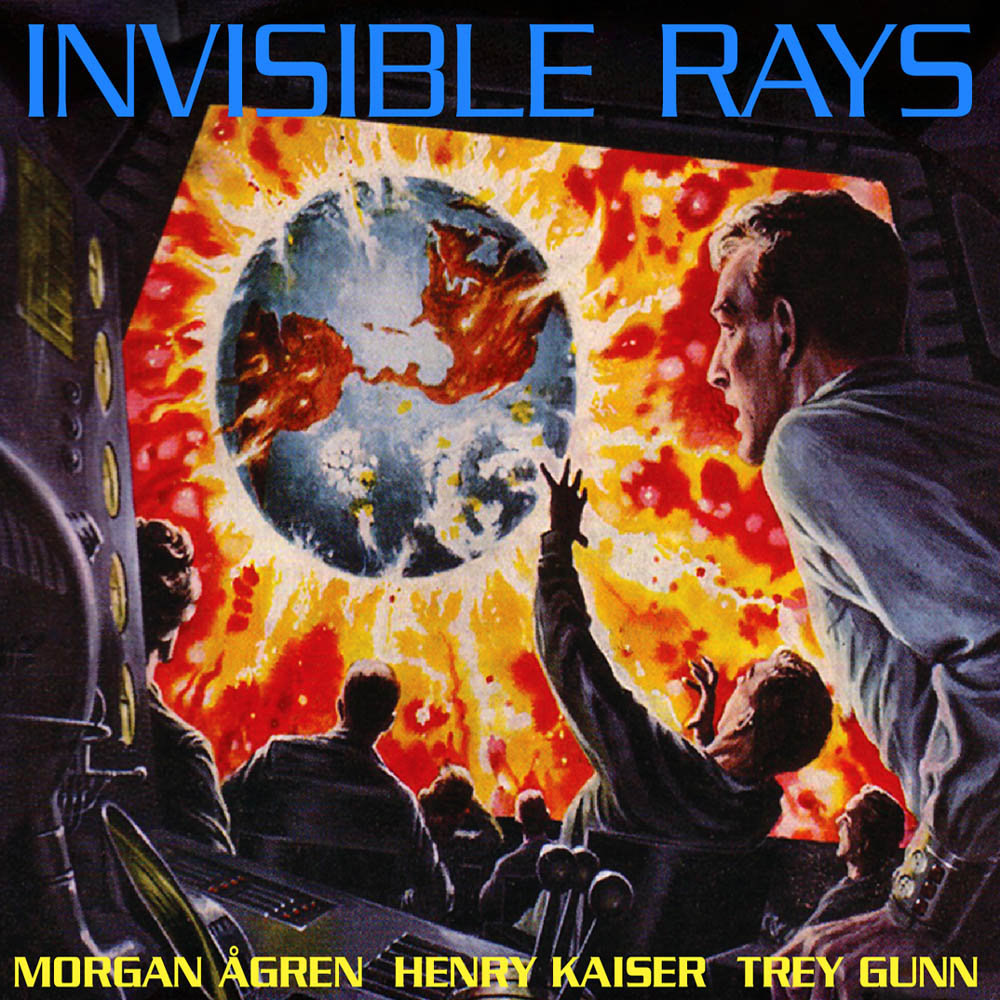 INVISIBLE RAYS 
Morgan Ågren, Henry Kaiser, Trey Gunn
A fortuitous meeting off the beaten track in Scandinavia has given rise to Invisible Rays, an enthralling spontaneous collaboration between the two of the most innovative guitarists and one of the most explosive drummers on the planet.
Having never made music together before, guitarists Trey Gunn and Henry Kaiser and drummer Morgan Ågren established enough common ground to produce a work of epic proportions. Anchored and propelled by Ågren's ferociously complex drumming, these "invisible rays" scorch through phantasmagoric soundscapes shaped and painted by searing electric guitars and raging bass lines.
Gunn and Kaiser and Ågren first crossed paths in March 2011 at the IB Expo, a music education conference in southern Sweden. Thomas Olsson, of the progressive rock band Isildurs Bane, brought Gunn, Kaiser, and Ågren (plus the Swedish duo Midaircondo) to Varberg and surrounding towns to demonstrate and talk about their craft to music and film students.
On the final day of the Expo, Gunn, Kaiser, and Ågren found themselves with time to kill before their afternoon sessions. Making the most of the occasion, the ad hoc trio laid down the foundation of Invisible Rays. Comprising 10 tracks—eight more or less composed pieces framed by two sprawling free improvisations—Invisible Rays defies categorization while reflecting the diverse backgrounds of the players, whose resumes include work with King Crimson, Brian Eno, Richard Thompson, David Lindley, Bill Laswell, Frank Zappa, and many others.
The recording that Gunn, Kaiser, and Ågren have made together is all the more remarkable given its spur of the moment origin. The action began at the Red Room, the Isildurs Bane headquarters, in Kungsbacka, a small town north of Varberg. Kaiser discovered that the "clubhouse" was home to Olsson's studio/performance space. As Gunn recalls, "Henry pushed this into action when he saw an opportunity to improvise together. 'We're in a studio, and we have two hours of free time,' he said, 'we should record.' To be honest," Gunn admits, "I am not that crazy about improvisation as a means to make records. I see it as a risky way to spend cherished studio time. But, we had the opportunity and, well, there's no harm in trying."
The musicians set up their gear, got their sound together, hit record, and started playing. "After a few quick takes, Henry had us doing a bunch of endings," Gunn explains, "which was a great idea, because often it isn't easy to carve a conclusion to an improv. When Morgan had to leave after about an hour, Henry and I played another 15 or 20 minutes as a duo. We had students waiting for us at the conference, so we didn't have time to listen back to anything."
At home in Oakland, Kaiser put together some rough mixes, and all three musicians were impressed by what they heard. "We were so completely in the moment when we were in that studio," Kaiser remembers, "I couldn't tell if what were playing was really any good. I just knew it felt great. It turned out to be amazing."
 Underwater diving footage by Henry Kaiser
Biographies
Trey Gunn is a longtime member of King Crimson (since 1994) and the undisputed master of the 10-string Warr Guitar, which combines bass and melody strings on a single fretboard. When he applies his stunning technique to the instrument's piano-like sonic range, the native Texan brings forth an extraordinary variety of tones, colors, textures, and storytelling melodies and harmonies. His powerful energy and expressive depth can be heard in solo recordings, TU (his duo with King Crimson drummer Pat Mastelotto), KTU (Gunn, Mastelotto, and Finnish accordionist Kimmo Pohjonen), film and TV scores, and projects for his 7 Directions multimedia production company. In addition to 17 King Crimson albums, Gunn has participated in recordings and/or live performances by David Sylvian, Brian Eno, TOOL, Led Zeppelin's John Paul Jones, Maynard J. Keenan's Puscifer, Vernon Reid, Azam Ali, Michael Brook, and Robert Fripp. Recent releases on Gunn's own 7d Media label include the retrospective I'll Tell what I Saw and Modulator with drummer Marco Minnemann, composed and produced over a 51-minute, live drum solo.
Henry Kaiser has garnered much attention and acclaim in recent years for his collaborations with maverick filmmaker Werner Herzog. The improvising guitarist produced the soundtrack for Herzog's Oscar-nominated 2005 documentary Grizzly Man, and as a byproduct of his annual sojourns to Antarctica as a research scuba diver, Kaiser did the underwater camerawork for the Herzog films The Wild Blue Yonder and Encounters at the End of the World. Kaiser also produced the latter and composed the score with guitarist David Lindley. Born and raised in Oakland, California, Kaiser's prodigious discography boasts solo and band recordings; projects with such guitar heroes and peers as Derek Bailey, Fred Frith, and Richard Thompson (including French, Frith, Kaiser, Thompson, with Captain Beefheart drummer John French); multiple volumes of A World Out of Time(recordings made in Madagascar) and The Sweet Sunny North (explorations of Norwegian music) with David Lindley; and the Yo Miles! tributes to Miles Davis' radical electric fusion, with trumpeter Wadada Leo Smith, guitarists Nels Cline and Elliott Sharp, keyboardist John Medeski, drummer Steven Smith, tabla master Zakir Hussain, and many others.
Morgan Ågren started playing drums when he was four years old and has ascended from a Swedish teenage phenomenon in the early 1980s to a leading light of progressive rock on the international music scene. Born in Umeå in northeastern Sweden, Ågren was 14 years old when he teamed with then-10-year-old blind keyboardist Mats Öberg. Renowned for their band's versions of music by Frank Zappa, Ågren and Öberg were invited to perform as guests at a 1988 Zappa concert in Stockholm, and take part in several projects in the U.S., including the 1991 concert that produced the Grammy-winning Zappa's Universe. Solidifying their own distinctive aesthetic, Ågren and Öberg began issuing their recordings on Ågren's Ultimate Audio Entertainment label in the 1990s and established the Mats/Morgan Band as a quintessential embodiment of adventurous jazz-rock. At the core of Mats/Morgan and any Ågren endeavor—from the Swedish Grammy-winning drum-enhanced string quartet Fläskkvartetten(Fleshquartet) and the prog band Kaipa, to collaborations with Bill Laswell, Steve Vai, Fredrik Thordendal (of Meshuggah), Tony Iommi, Terry Bozzio, Mike Keneally, and Dweezil Zappa—are the thunderous attack, monstrous chops, and rhythmic intricacy that earned Ågren number one fusion drummer ranking in the 2010 Modern Drummer readers poll.
Frank Zappa on playing with Morgan
Invisible Rays
Trey Gunn - touch guitar and bass
Henry Kaiser - guitar
Morgan Ågren - drums and zither
Recorded on March 18, 2011 at The Red Room by Mats Johansson in Halmstad, Sweden
additional drums and zither recorded in Annanstans Studio, Värmdö, Sweden
additional guitars recorded at 7d studios, Seattle, WA
mixed by Don Gunn